North Carolina Point Source Emissions Report

We continue to work on ways to make this report better for the users and to provide more explanations as to how the data are collected, limitations, caveats, etc. Please provide any comments or suggestions to EIUG Reports DEQ.AQ.Emission_Inventory_UG@deq.nc.gov Thank you.
Notes regarding generation and interpretation of these data:
Data here represent permitted point sources only, as reported by the facility to the North Carolina Department of Environment and Natural Resources, Division of Air Quality (DAQ) and reviewed by DAQ staff during the calendar year following the year emitted. Emissions data collected by local air agencies in Buncombe, Forsyth and Mecklenburg counties are not included in Statewide Totals. Except for years 1993, 1996 and 1999, not all facilities are required to report each year (generally, larger facilities report each year).This report now shows emissions for all facilities in the selected county, with actual emissions for the selected year being supplemented by emissions for other facilities in the county being shown for the latest year reported (year reported in parentheses), along with a grand total of reported and assumed emissions. If you need additional information regarding this report, please contact Tammy Manning at Tammy.Manning@deq.nc.gov or 919-707-8717.
If you search for a specific facility:
The facility name search parameter id is case sensitive.
The results will return all facilities whose names contain the text you enter.
Special characters like apostrophe ('), and comma (,) do count towards this search
The maps, showing pollutant ranges for each county, are available by selecting Show All Counties on the County Selection selection box and selecting an individual pollutant from the Pollutants selection box below.

---
---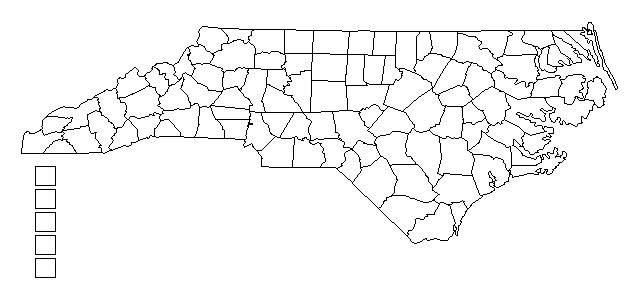 | | |
| --- | --- |
| * Please note that Total Emissions for a Statewide Totals Report does not include emissions data collected by Local Air Agencies in Buncombe, Forsyth and Mecklenburg Counties. | |